Ourselves
SlotRacing Society of Western Örebro består för närvarande av 14 personer, vilket är fullt tillräckligt för allt kul vi gör oss.

Vi är:

Johan Mollberg, Överstolle och delvis ansvarig för att allt startade för så många år sedansenior crackpot and partly responsible for the founding of it all. He´s one of the most succesful through the years and also one of the nuttiest. He writes a magazine, BSC Slotracer, and has even written (but it was only 18 copies) a referencebook, called SRSoWÖ Komplett (SRSoWO Complete). Here he is with the head of a (plastic) horse he found in his bed, placed there by Per Karlsson in an attempt to get Johan to write something nice about him in The Slotracer. Of course this didn´t happen. Johan has never written anything nice. That should be obvious.

And, yes, he has both read The Godfather and seen the movie. He´s the intellectual in the club.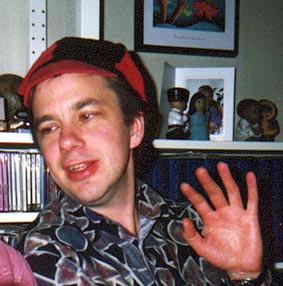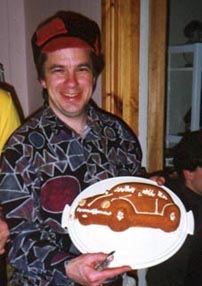 Bengt Ström
was the force behind the whole idea in 1991. Persuading Johan that every free man should have his own slotrace track he started it all. Together they built three small tracks in less than two years. Under the name of &QUOTBenoga&QUOT and &QUOTRennscheisse&QUOT he has built a lot of advanced and interesting cars, preferable Porsches. Look at the cap! It dates from 1974 when he made the roads dangerous with a VW just like the one on the cake.
Mårten Larsgärde

, co-writer of

SRSoWÖ Komplett

. He´s also been very succesful with several championships to his credit. Under the name Lindstroem Engineering he has built some very good cars, but also made some very late changes, sometimes building a car the night before a race. The result of that kind of engineering usually turns out to be worse than its predecessor.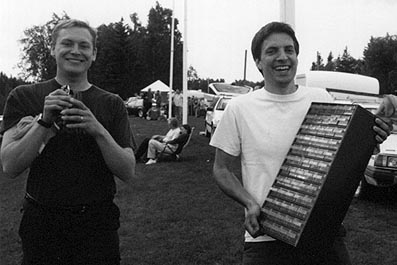 Kajo and Mårten have bought slot stuff! Funny how that always delivers
happiness
Kajo Nykvist

lives in Stockholm, 190 km away, so unfortunatly he rarely enlightens the races and lives of the other club members. He has plenty on his record; liquid cooling of a Mabuchi S, fancooling of the same, beautiful lyrics for the club and magazine, a

future vision

of slotracers as the most important political power on Earth. According to Kajo, USW, Union of Slotracing coutries of the World, will in 2063 build a Scalextric plexytrack to the Moon! His first car, the infamous Ferrari F40, was a bit on the rough side, but he has since raised the standard considerably. His current GT car, FLY´s Panoz Spyder, has its body intact, but a chassis that goes beyond what words alone can describe.

By the way, Kajo had even wilder ideas, like the &quottraction control&quot

Claes Hindemith originates from Helsingborg, by the coast at the south of Sweden. There they have different "R:s" than we normally have in Örebro, so sometimes we don´t understand him. Or is it that we don´t want to understand?... His temper always shows when his car is bumped off the track. He has been a slotracer since 1995, and has won several races.
Here he´s brimful of mumma, telling a joke other mummadrank people actually understood.

Glenn Westerberg

is not only a good (enduring and loud) talker, he also knows how to build a slotcar and drive it fast. Three times he was runner-up in the GT championships. More recently he´s been using more and more time on a race car in a different scale, and lesser on the small ones. The picture shows him in his right element; a racetrack. This is at Anderstorp, watching ISRS. However, there are other

right elements

for him...




Per with one of his favorites.

Per "Ecclestone, Cash, Party" Karlsson is a long time winner in classes with narrower cars, especially Touring Cars and Rally. He´s often treated with sedatives to keep him from inventing yet another way of racing. So far he´s the father of longdistance racing, "the longer the better", Rookie Cup, historic rallying (which never was), historic F1 (which never was), and several others that no-one cares to remember (they never were anyway). He´s never out of ideas!
Look at his engineering abilities!
...and his commitment when going to a race!



Magnus Karlsson

has been around for a few years now, and won a lot. His cars seem rather simple and straightforward yet are faster than most. But Magnus often looks as he has a secret... Why his cars run smoother and quiter than other remains a mystery.

When racing he´s breathing like an old steamer!

Bengt Bambi Rönnbacka is the new boy on the block (or the new reindeer on the ice) but has nevertheless built several exquisite rallytracks, with some electronic gizmos, and done so with ease. "Det är bara att smi´ihop en bana." ("It´s just to forge up a track")